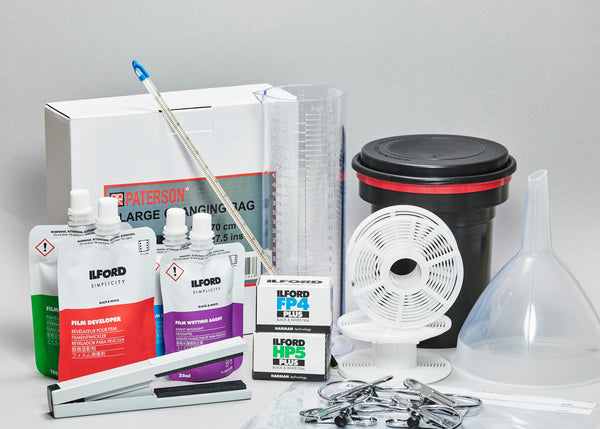 Complete Film Processing Kit #1 2Rolls FREE UK SHIPPING
UK BUYERS ONLY DUE TO THE CHEMICALS. 
FREE UK SHIPPING
I can customise any kit email morgan@mod54.com
This is pretty much everything you need to process your own film all you need is a camera and a few containers (i use plastic milk bottles).
Kit includes chemicals and two rolls of film.  Unlike many kits there are also some negative sleeves to store your processed film in.
This is the basic kit you need to get processing in B&W film.
Includes - 
Ilford Simplicity Chemical Pack for 2rolls of 35mm Film
35mm roll Ilford FP4 36 exposure ISO125 B&W Film
35mm roll Ilford HP5 36 exposure ISO400 B&W Film
Paterson 2 Reel Tank
Paterson 2 Auto reels for 35mm & 120
30cm strip of film to practice loading the reel
Paterson 600ml Graduate
Thermometer
Paterson Changing bag
Film Squeegee
Funnel
4 Film drying clips
2 Sheets of Printfile negative holders